160kW 50hp Hydraulic Oil Cooling System EPS Machine Cooler Water Cooled Oil Water Chiller price


0. Applicattion areas of MGREENBELT water chiller
Water cooled chiller used in hydrulic oil cooling system very well. It can precisely control the exactly temperature , which requested by the modernized machinery production, and greatly improved the production efficiency and product quality.
MGREENBELT Industrial chiller is a good partner for the modernized industry , which feather as easy to operate with reasonable design, high quality and complete range of specifications.
If you have no idea of the solution or chiller size need, please kindly check and inform the below information.
1) Oil tank capacity
2) Max oil level
3) Oil temperature before cooling and target cold temperature
4) Oil flow per cycle
5) Which No. of the hydraulic oil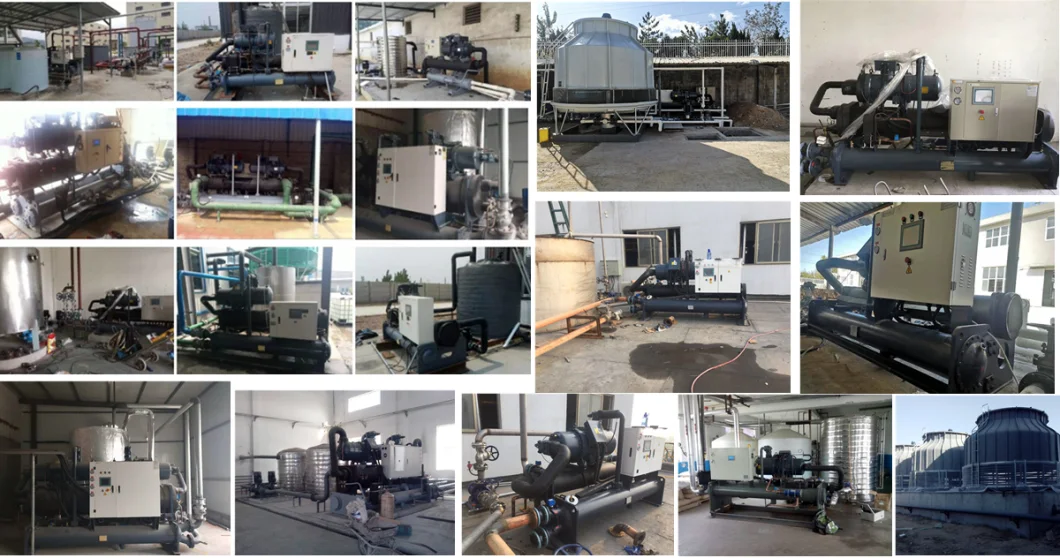 1. MGREENBELT water cooled chiller general introduction
a)Low Noise, without fans
b)High Efficient and Energy Saving by cooling tower good cooling efficiency
c)Easy Operation and Installation
d)Compact Exterior
e)High quality
f)Competitive price
g)CE certificated

2. MGREENBELT water chiller protection devices
1)Phase sequence protection,
2)Phase lack protection,
3)Overload & overheat protection,
4)Exhuast air temp. protection,
5)Low & High pressure protection,
6)Ultra Low temp. protection,
7)Water flow protection
3. MGREENBELT water cooled chiller details:
As a water chiller top manufacturer, this water cooled screw chiller has the following features. Chiller
Well-known Brand Compressor
Unit adopts Germany BITZER or Taiwan HANBELL brand semi-hermetic screw compressor. The latest 5 to 6 patented screw rotor profile with excellent efficiency.
Adjustable infinite or closely stepped capacity control, features energy efficient, stable and quiet running.
Most advanced patented highest precision manufacturing process.
Built-in full intelligent monitoring and protection including thermal motor temperature monitoring, phase sequence monitoring, manual reset lock-out, oil temperature sensor.
Wide range of refrigerant for option, including R134A, R407c and R22(R404A, R507c upon request).
Microprogramming Control System
Industrial PLC centralized control combined with compressor capacity control system, precisely monitor.
Integrated protection for low temperature, high/low pressure, anti-freezing, phase missing, anti-phase, overload, motor over temperature, oil differential, flow switch, start up latency.
Optional operation language, menu leading, unit running state easy to adjust.
Easy Installation, Reliable Running
Closely stepped start-up, minimize impact to electricity.
Steady and safe running, low vibration, easy for installation.
Compact structure, less space demand and light in weight, easy for transport and installation.
Completely wired, inspected and tested pre-delivery, saving installation time and cost.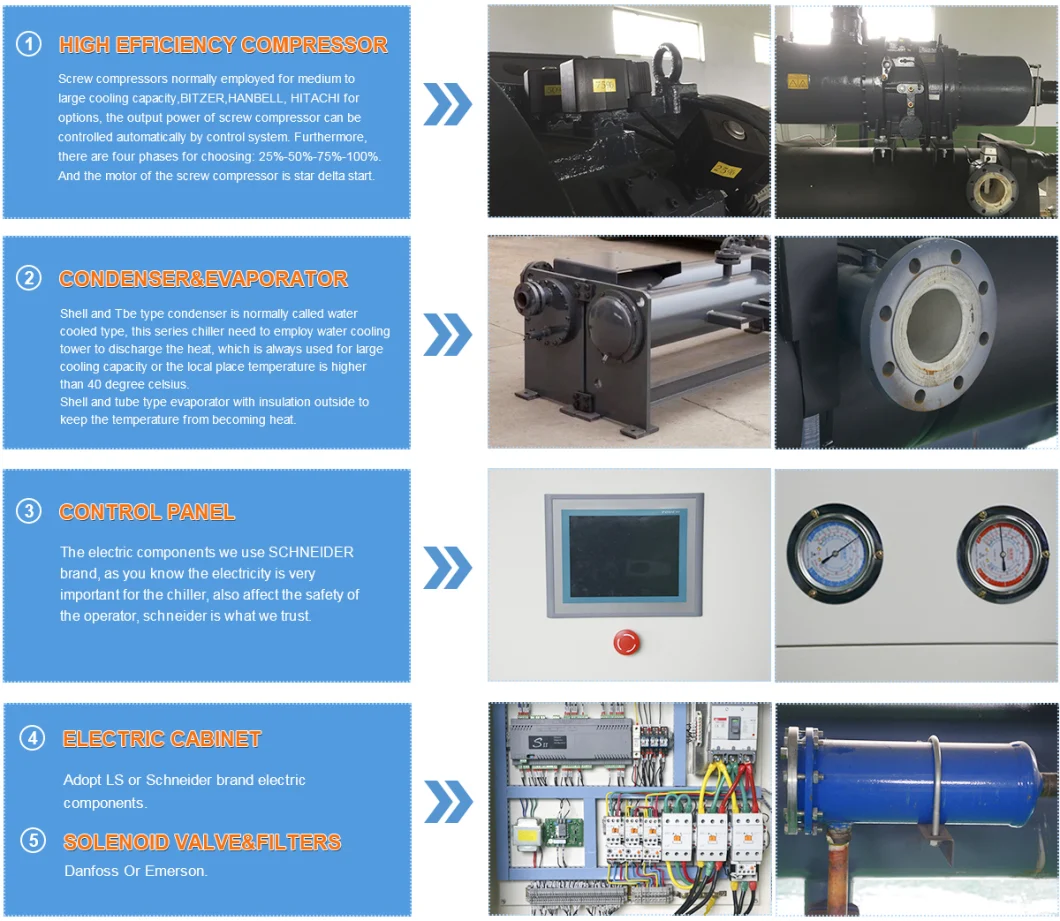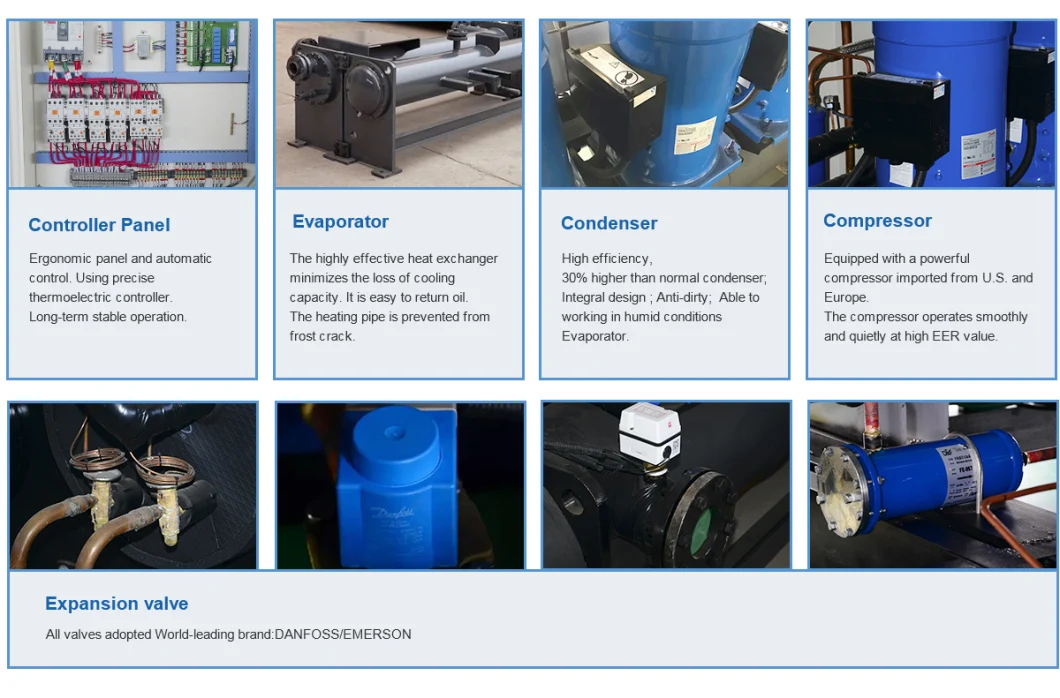 4. Water cooled chiller structure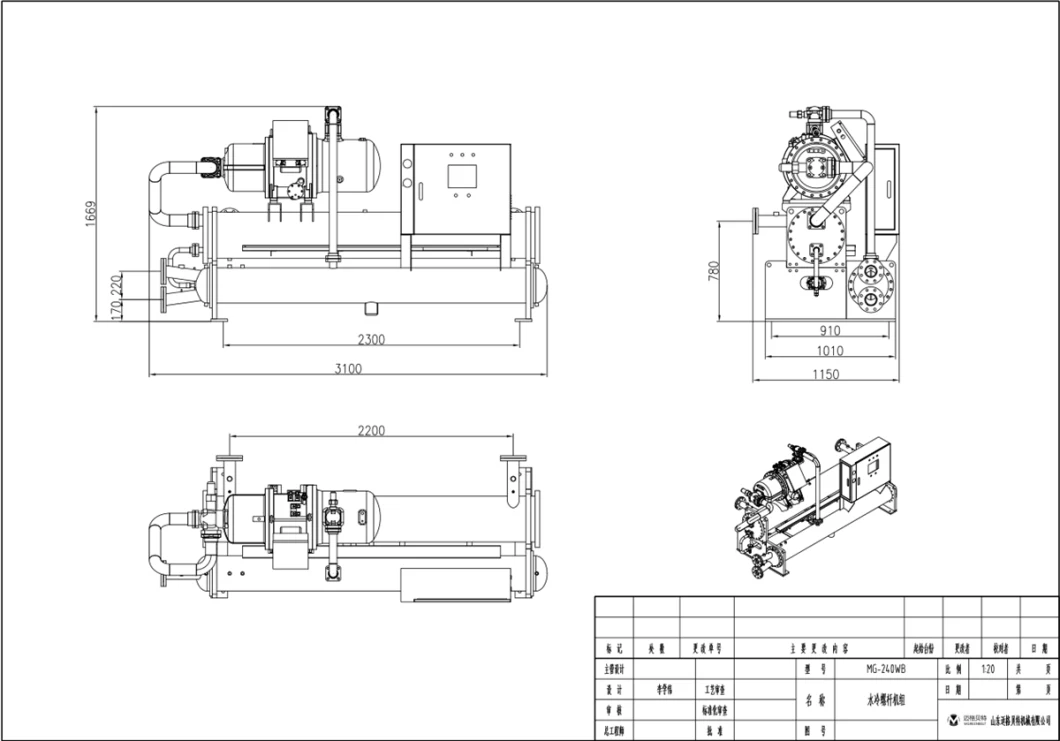 5.
Hydraulic oil cooling system
Normally our chiller working for No. 32, 46, 68 hydrauli oil cooling system, can be 2 different type cooling.
(1). oil directly goes into chiller and be cooled, all the parts is tainless steel.
(2). Indirectly cooling, Chiller cold water goes into the Water cooled Oil Cooler( OR series), to cool the hydraulic oil by indirect, this way will be more ceonvenient.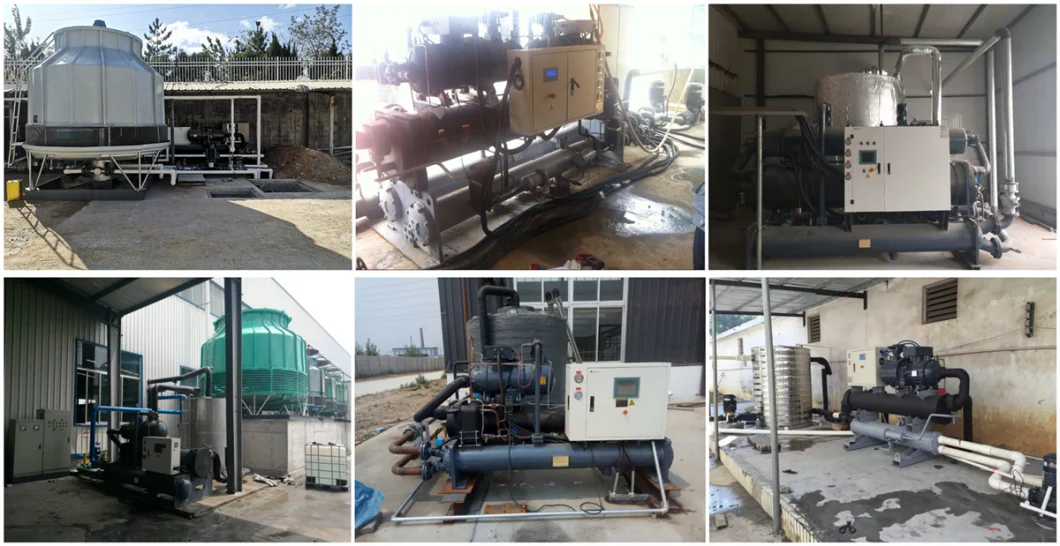 6. Water cooled Chiller pictures
Mgreebelt chiller got CE, UL, SABER, CSA certificate to different market.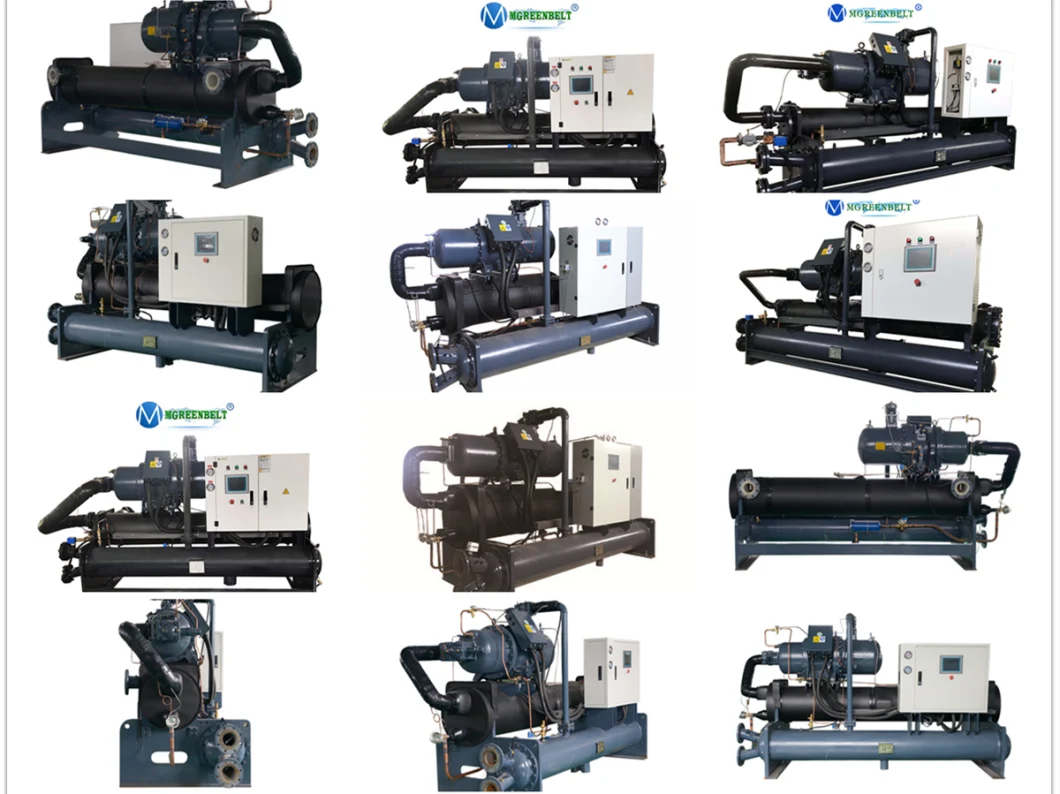 7. MGREENBELT factory production lines of testing every chiller
(1)Pressurization and helium leak detection of refrigeration circuit
(2)Pressurization and leak testing of fluid circuit
(3)Chiller performance and power consumption at full load
(4)Proper operation of all controls, safety devices, and alarms
(5)Electrical tests according to standards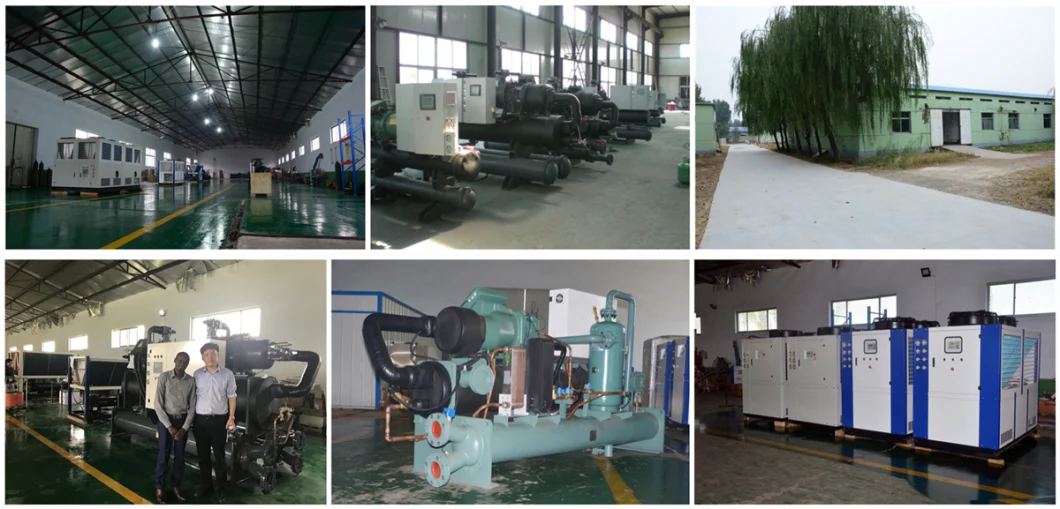 8. Water cooled chiller parameter

1). Shell and tube evaporator and condenser, high efficient thread red copper tube (material change on request).
2). Siemens PLC control, LCD touch screen interface, easy operation, Standard design charged.
3). R22, CFC free R407c, R134a for option.
4). 380V-415V-480V/50/60HZ, 3PH for standard design. Chiller unit can be supplied according to diffierent requirements.
Water Cooled Screw Chiller(Single compressor)

Model

MG-30WS

MG-40WS

MG-50WS

MG-60WS

MG-70WS

MG-80WS

MG-90WS

MG-100WS

MG-110WS

Cooling capacity

+7

ºC

USRT

25.1

34.2

44.9

48.9

59.6

77.1

81.4

89.1

96.4

Kcal/h

75938

103458

135794

147834

180256

233060

246304

269524

291712

KW

88.3

120.3

157.9

171.9

209.6

271

286.4

313.4

339.2

Power supply

3PH-380V-50Hz

Refrigerant

Type

R22

Control

Thermostatic expansion valve

Compressor

Type

Semi-hermetic screw

Power(kw)

21.4

28.2

35.4

38.8

47.2

57.9

60.9

67

73.1

Start

Y-

△

Capacity

25-50-75-100

(

%

)

or 25-100

(

%

)

Evaporator

Type

Shell and tube

Water flow(m³/h)

15.1

20.6

27.1

29.5

35.9

46.5

49.1

53.7

58.1

Dia.of inlet/outlet(inch)

DN50

DN65

DN80

DN80

DN80

DN100

DN100

DN100

DN100

Condenser

Type

Shell and tube

Water flow(m³/h)

20.7

28

36.5

39.7

48.4

62

65.5

71.7

77.7

Dia.of inlet/outlet

DN50

DN65

DN80

DN80

DN80

DN100

DN100

DN100

DN100

Protection System

Compressor overheatprotection, high/low pressure protection,phase missing/

sequence protection, flow rate protection, anti-frozen protection.

Dimension

L

2300

2500

2500

2500

2800

3200

3200

3500

3500

W

750

750

750

750

800

800

800

900

900

H

1500

1500

1500

1500

1500

1500

1500

1500

1800

Noise

dB

73.1

73.7

74.8

78.4

79

79.6

80.4

80.4

83.1

Weight

kg

660

800

1000

1200

1400

1600

1800

2000

2200
Double Compressor Water Cooled Screw Chiller( 5C to 35C)

Model

MG-60WSD

MG-80WSD

MG-100WSD

MG-120WSD

MG-140WSD

MG-160WSD

MG-170WSD

MG-180WSD

MG-200WSD

MG-220WSD

Cooling capacity

USRT

+7

ºC

50.2

68.4

89.8

100.7

119.2

138.2

154.1

162.9

178.2

192.9

Kcal/h

151876

206916

271588

304440

360512

417960

466120

492608

539048

583424

KW

176.6

240.6

315.8

354

419.2

486

542

572.8

626.8

678.4

Power supply

3PH-380V-50Hz

Refrigerant

Type

R22

Control

Thermostatic expansion valve

Compressor

Type

Semi-hermetic screw

Power(kw)

42.8

56.4

70.8

85.3

94.4

109.6

105.8

121.8

134

146.2

Start

Y-

△

Capacity

25-50-75-100(%) or 25-100(%)

Evaporator

Type

Shell and tube

Flow(m³/h)

30.3

41.2

54.1

60.7

71.9

83.3

92.9

98.2

107.5

116.3

Dia.of pipe

DN80

DN100

DN100

DN100

DN125

DN125

DN125

DN150

DN150

DN150

Condenser

Type

Shell and tube

Water flow(m³/h)

41.4

56

72.9

82.6

96.9

112.3

122.2

131

143.5

155.5

Dia.of pipe

DN80

DN100

DN100

DN100

DN125

DN125

DN125

DN150

DN80*2

DN100*2

Dimension

L

2500

2500

3500

3500

4000

4000

4000

4000

4000

4000

W

900

900

900

900

900

1000

1000

1000

1400

1400

H

1500

1500

1500

1500

1500

1800

1800

1800

1600

1600

Noise

dB

73.1

73.7

74.8

78.4

79

79.2

79.6

80.4

80.4

83.1

Weight

kg

1500

1800

2200

2500

2700

3000

3500

3600

3800

4000

FAQ
1. Are you manufacturer or Trade Company?
We are OEM professional factory, founded in 2003.

2. What's the order process?
.Inquiry---provide us all clear requirements.
.Quotation---quotation form with all clear specifications.
.Contract confirmation---provide correct contract details.
.Payment terms--- T/T 30% in advanced, balanced before shipment.
.Production---mass production
.Testing: 8hours, to ensure the quality of the machine
.Shipping--- by sea, train, air or courier. Detailed picture of package will be provided.
.Installation

3.What terms of payment you use?
T/T, L/C,etc.

4. How to get a prompt quotation?
When you send the inquiry to us, pls kindly send it with below technical information.
1) what size of the oil tank?
2) Oil temperature before cooling and target cold temperature ?
3)Refrigerant: R22 or others
4) Oil flow per cycle for one machine?
5) Which No. of the hydraulic oil?

As a professional industrial chiller manufactuer and solution provider , we can supply kinds of chillers to meet your different cooling requirement, if the chillers above is not workable for you, please feel free send needs to us directly.
Contact Person: Libra Zhang