Milk Cooling Tank With Copeland Refrigeration Unit



Milk cooling tank can be devided into vertical milk cooling tank and horizontal milk cooling tank according to the tank capacity. For small capacity, such as 500L, 800L and 1000Liter capacity milk cooling tanks, we usually make it into vertical milk cooling tanks. For the cooling capacity more than 1500L, we usually make it into horizontal milk cooling tanks.

Horizonal milk cooling tank is mainly used in cooling to storage sweat milk or other liquid. It is designed based on international advanced technology and is equipped with imported compressor and safety protection system, micro computer monitor, as polyurethane foaming, honeycomb board evaporator. So the milk cooling tank is the most ideal cooling and storage equipment for farm, milk factory, food factory, beverage factory and pharmacy industry.

Vertical milk cooling tank is an insulating layer wrapping the jacketed layer, which keeps it in constant temperature and prevents the milk from producing bacterium. The timed agitator makes the fresh milk keep in A grade.
The milk cooling tank body is made of 304 Stainless Steel with good appearance and polished of welding line. With agitator at stirring speed- 36rpm. With insulating material to keep the temperature in cold storage.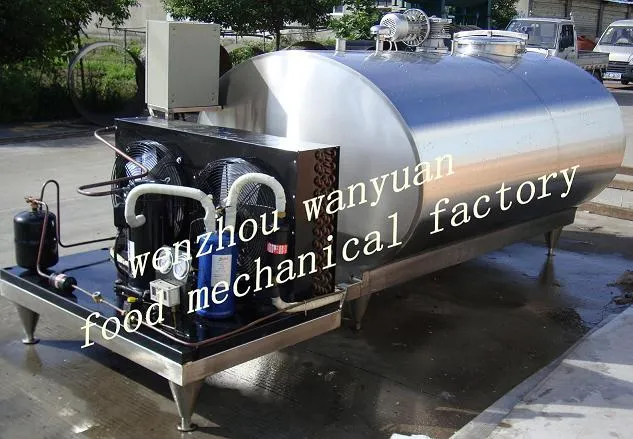 Wenzhou Wanyuan Food Mechanical Factory---3000 Liter Milk Cooling Tank Insulated Milk Cooler
Here below the milk cooling tank specification
Milk cooling tanks specification

Model

Capacity(L)

Cooling capacity(W)

Stirring speed ( R/MIN)

Match power(KW)

dimension(L*M*H)

MCT-0.5

500

3500

36(24)R/MIN

1.5

2200*1350*1150

MCT-1

1000

6900

36(24)R/MIN

3

2750*1150*1500

MCT-1.5

1500

10000

36(24) R/MIN

4

3000*1350*1550

MCT-2

2000

13000

36(24)R/MIN

5

3200*1500*1600

MCT-3

3000

17800

36(24)R/MIN

6.5

3500*1650*1700

MCT-5

5000

34000

36(24)R/MIN

13

4000*1950*2000

MCT-6

6000

34000

36(24)R/MIN

13

4200*2200*2100

MCT-8

8000

42000

36(24)R/MIN

18

4800*2400*2400

MCT-10

10000

65000

36(24)R/MIN

24

5000*2600*2500