1.Product Performance
1)ADW91T6, WQ series, use R134A refrigerant;
2)Voltage application 110V to 120V;
3)Frequency for 50/60HZ;
4)Motor type: CSIR;
5)Cooling type: ST/FAN;
6)Starting device is CURRENT Relay;
7)Application: Low Back Pressure;
8)Nominal power is 3/8- HP;
9)COP is 1.35 with the cooling capacity 260W.

Basing on Test Condition(ASHRAE)
Evaporating Temperature: -23.3 degree
Ambient Temperature: 32.2 degree
Subcooling Temperature: 32.2 degree
Condensing Temperature: 54.4 degree
Suction Temperature: 32.2 degree



2.Compressor Dimensions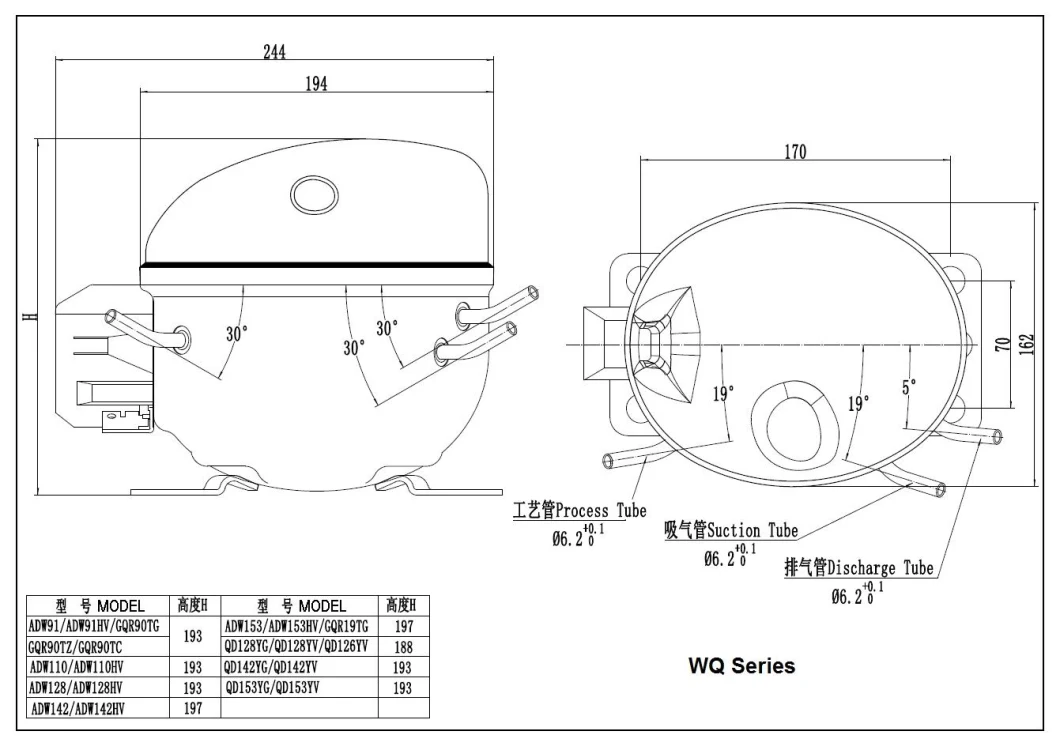 3.Compressor Specification
Serial
Model
HP
Voltage/

Frequency (V/Hz)
Displacement (cm3)
Cooling Capacity ASHRAE
Motor type
Starting Device
Starting capacitor (uF)
Running capacitor (uF)
Cooling Type
-35ºC (-31F)
-30ºC(-22F)
-25ºC(-13F)
Test Conditions:-23.3ºC(-10F)
-20ºC(-4F)
-15ºC(5F)
-10ºC(10F)
-5ºC(23F)
0ºC(32F)
W
Btu/h
W
Btu/h
W
Btu/h
Capacity (W)
Capacity (Btu/h)
lnput Power(W)
Current

(A)
COP
EER
W
Btu/h
W
Btu/h
W
Btu/h
W
Btu/h
W
Btu/h
L
QD25H11G
1/12
110-120V/50-60Hz
2.5
30
102
38
130
50
171
65
222
59
0.9
1.1
3.76
81
276
102
348
127
433
159
543
198
676
RSIR
PTC Starting Relay
/
/
ST
QD30H11G
1/10
3.0
34
116
44
150
58
198
75
256
68
1.1
1.1
3.76
94
321
117
399
147
502
183
624
229
781
RSIR
/
/
ST
QD35H11G
1/9
3.5
41
140
53
181
69
235
90
307
69
1.3
1.3
4.45
113
386
141
481
176
601
220
751
275
938
RSIR
/
/
ST
MS
ADW43T6
1/6
4.3
59
201
77
263
100
341
130
444
100
1.4
1.3
4.44
163
556
203
693
254
867
317
1082
397
1355
RSIR
PTC/Current

Starting Relay
/
/
ST
ADW51T6
1/5
5.1
68
232
89
304
115
392
150
512
115
1.5
1.3
4.45
188
641
234
798
293
1000
366
1249
458
1563
RSIR
/
/
ST
ADW57T6
1/4
5.7
73
249
95
324
123
420
160
546
123
1.6
1.3
4.44
200
682
250
853
313
1068
391
1334
488
1665
RSIR
/
/
ST
LM
ADW43T6
1/6
4.3
59
201
77
263
100
341
130
444
100
1.4
1.3
4.44
163
556
203
693
254
867
317
1082
397
1355
RSIR
/
/
ST
ADW51T6
1/5
5.1
68
232
89
304
115
392
150
512
115
1.5
1.3
4.45
188
641
234
798
293
1000
366
1249
458
1563
RSIR
/
/
ST
ADW57T6
1/4
5.7
73
249
95
324
123
420
160
546
123
1.6
1.3
4.44
200
682
250
853
313
1068
391
1334
488
1665
RSIR
/
/
ST
MK
ADW66T6
1/4+
6.6
89
304
115
392
150
512
195
665
145
2.2
1.35
4.59
244
833
305
1041
381
1300
476
1624
595
2030
RSIR
/
/
ST
ADW77T6
1/3-
7.7
100
341
130
444
169
577
220
751
165
2.4
1.35
4.55
275
938
344
1174
430
1467
537
1832
671
2289
RSIR
/
/
ST
ADW86T6
1/3
8.6
109
372
142
485
185
631
240
819
178
2.6
1.35
4.60
300
1024
375
1280
469
1600
586
1999
732
2498
RSIR
/
/
ST
ADW91T6
3/8-
9.1
118
403
154
525
200
682
260
887
192
3.3
1.35
4.62
325
1109
406
1385
508
1733
635
2167
794
2709
CSIR
Current Starting

Relay
93-169
/
F
ADW110T6
3/8
11.0
141
481
183
624
239
815
310
1058
230
3.8
1.35
4.60
388
1324
484
1651
605
2064
757
2583
946
3228
CSIR
93-169
/
F
WQ
ADW91T6
3/8-
9.1
118
403
154
525
200
682
260
887
193
3.3
1.35
4.60
325
1109
406
1385
508
1733
635
2167
794
2709
CSIR
93-169
/
F
ADW110T6
3/8
11.0
141
481
183
624
239
815
310
1058
230
3.8
1.35
4.60
388
1324
484
1651
605
2064
757
2583
946
3228
CSIR
93-169
/
F
ADW128T6
1/2-
12.8
166
566
216
737
281
959
365
1245
270
4.3
1.35
4.61
456
1556
570
1945
713
2433
891
3040
1114
3801
CSIR
93-169
/
F
ADW142T6
1/2
14.2
183
624
238
812
309
1054
402
1372
298
4.6
1.35
4.60
503
1716
628
2143
785
2678
981
3347
1227
4187
CSR
93-169
15
F
ADW153T6
1/2+
15.3
205
699
266
908
346
1181
450
1535
334
4.8
1.35
4.60
563
1921
703
2399
879
2999
1099
3750
1373
4685
CSR
93-169
15
F

4.Compressor Packing and Container Loading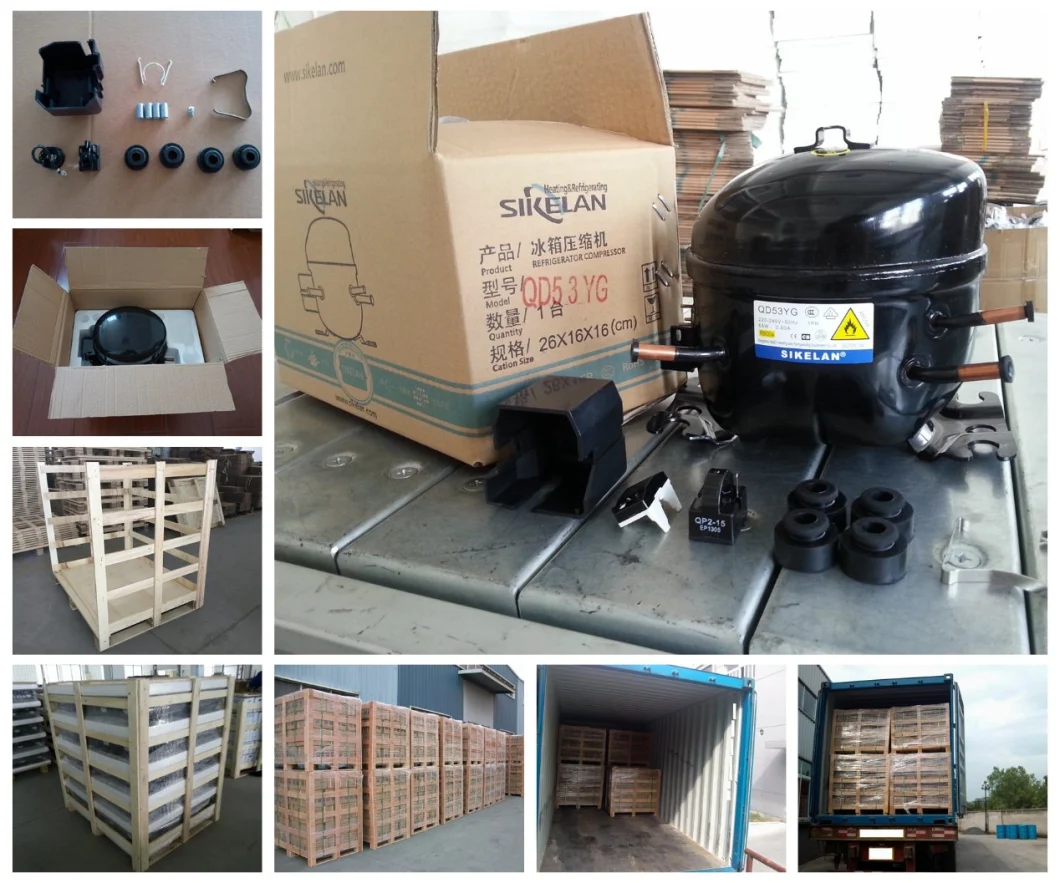 5.Compressor Certificate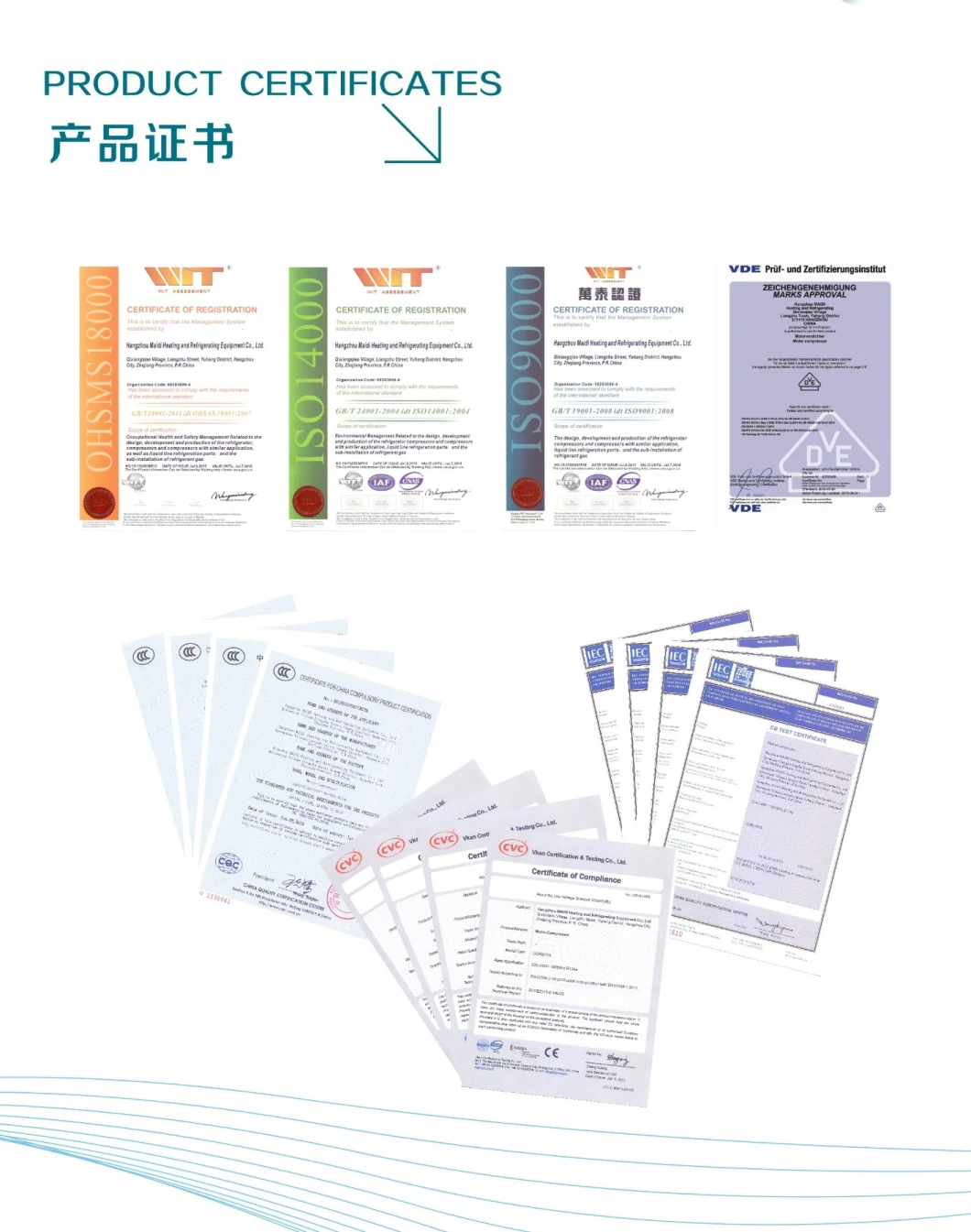 6.Our Production View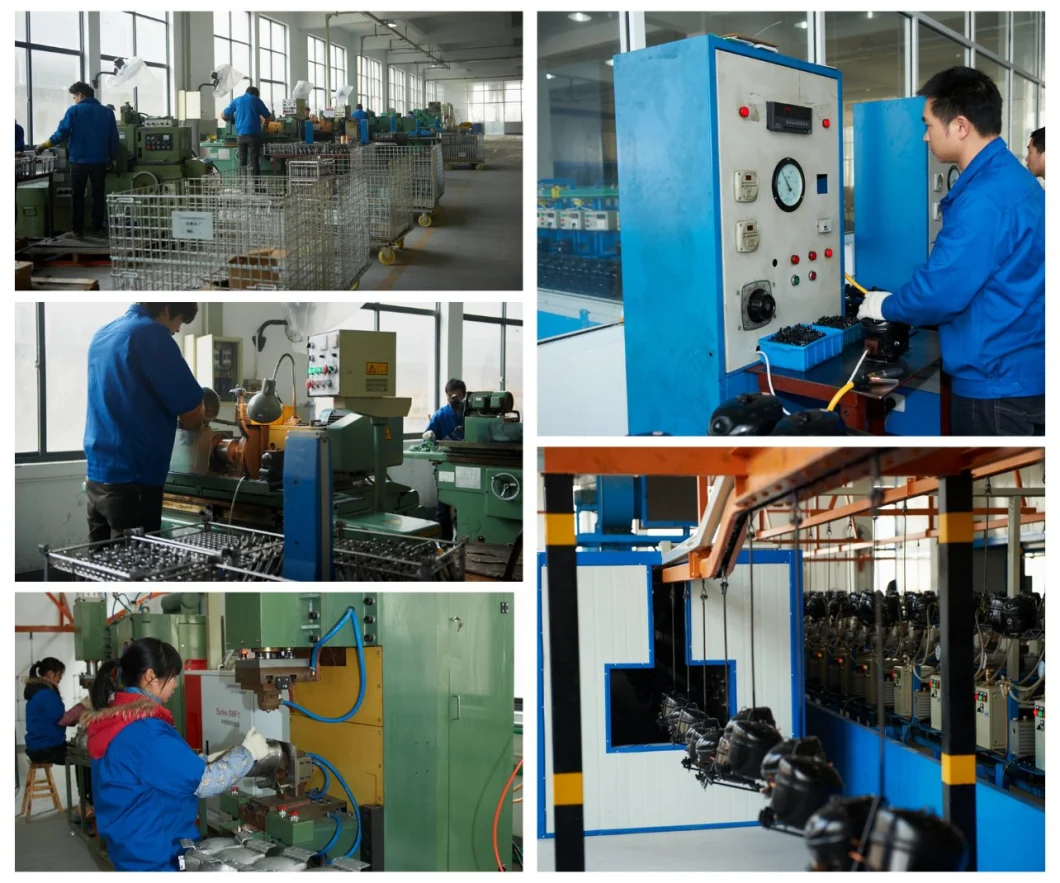 7.Our Show Room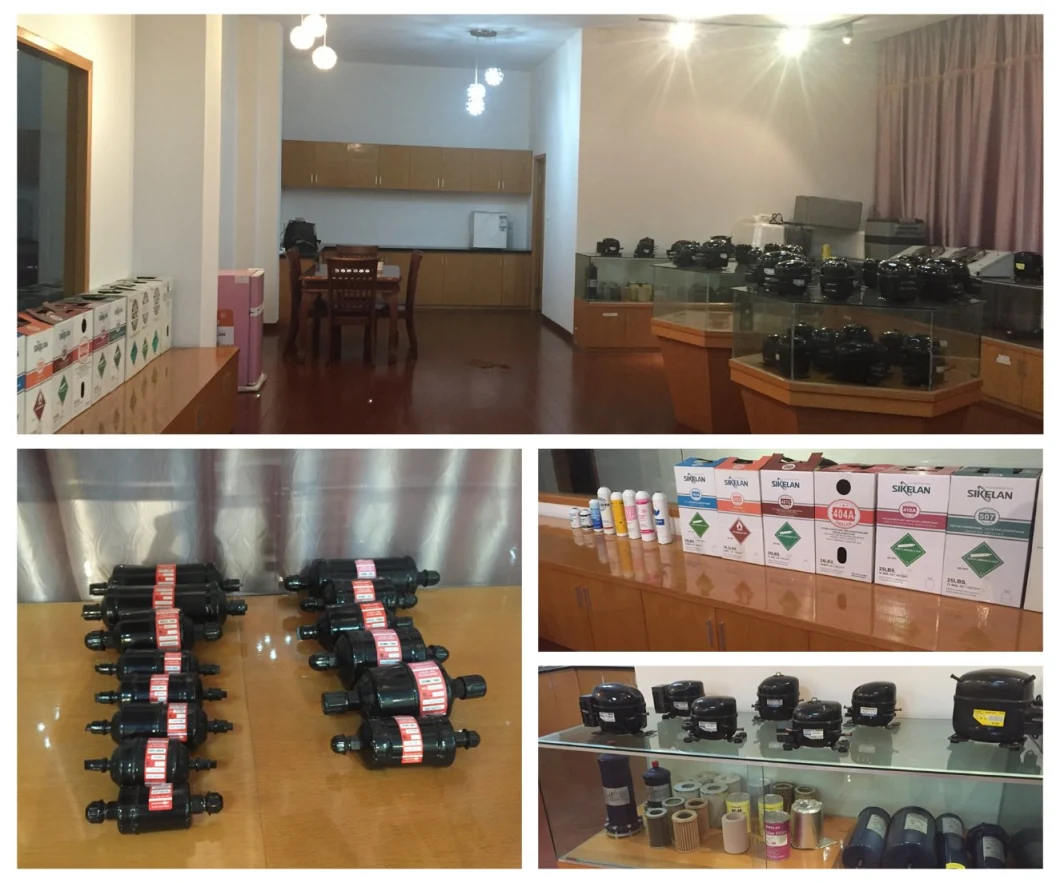 8.Introduction of Company
Business Type: Manufacturer, Exporter
Location: Hangzhou(near Shanghai and Ningbo), China
Year Established: 2009 (former name: Hangzhou Maidi Heating and Refrigerating Equipment Co.,LTD.)
Company Certifcate: ISO9001/ISO14001/OHS18001
Main Product: Refrigerator Compressor; Refrigerant Gas; Liquid Line Refrigeration Spare Parts


9.Why Choose Us
Advantages we have:
A.Experienced refrigeration products supplier;
B.Over 10 years exporting history;
C.Alibaba golden supplier, factory recognizaed by BV/SGS/ISO... so on.
Benefit you get:
A.Stable Quality----Coming from good material and technology;
B.Lower Price----Not cheapest but the lowest at the same quality;
C.Good Service----Satisfactory service before and after sales.